Happening Now
Archive -- Spring Advocacy Conference + Virtual Day on the Hill
Date
Sunday, April 18, 2021 1:00 PM Tuesday, April 20, 2021 5:00 PM

Take a pledge and sign up for our "Week of Action" email alerts!

We have officially opened registration for the 2021 Rail Passengers Virtual Day on the Hill taking place on Sunday, April 18th through Tuesday, April 20th. The full agenda can be found below. Join us to make sure you have the tools and latest information as you advocate for "A Connected America" with your elected officials on the Hill during our second annual National Day of Action!

The cost for the event is $45 and that includes:
Board & Council business meeting (Board/Council ONLY) and General Membership Presentation on Sunday;

Advocacy sessions on Monday featuring presentations and updates from staff, Amtrak, and federal officials;

Tuesday's Virtual Day on the Hill.
Please note that holding these sessions online dramatically reduces the cost of our Spring activities when compared with an in-person meeting, and also makes it possible for many more members to attend...including YOU! Online meetings reduce cost, but they don't eliminate it -- there are direct and indirect expenses associated with producing an event of this scope, including our online meeting hosting services and our paid Zoom licenses. Your registration fee goes to offset those expenses involved with production of the meeting.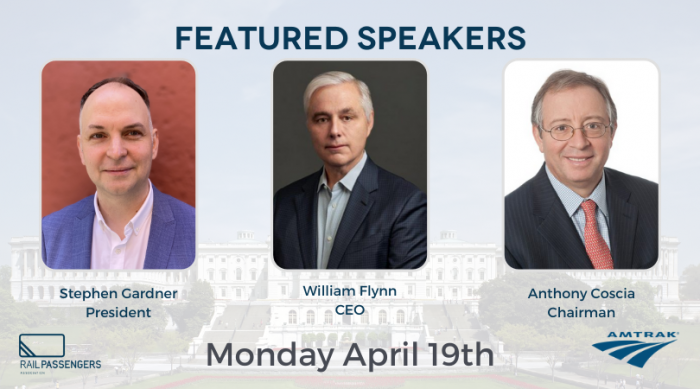 REGISTER NOW

NOTICE: If you have funds in reserve from a RailNationDC 2020 registration, those monies aren't eligible for use with this event. They may be applied to the next RailNation in person event, which as of today is expected to take place in September. If you have any questions regarding RailNation 2020 funds, please contact Jonsie Stone at [email protected]
Sunday, April 18th (All Times Eastern)
1 - 4p

Business Meeting (Council & Board Members ONLY)

1 - 3p

General Membership Presentation

Sean Jeans-Gail, VP of Government Affairs & Policy, Rail Passengers Association
Daniel Plaugher, Executive Director , Virginians for High Speed Rail
Monday, April 19th (All Times Eastern)
9a

Opening Remarks & Amtrak - Annual Update

Jim Mathews, President & CEO, Rail Passengers Association
Bill Flynn, CEO, Amtrak
Stephen Gardner, President, Amtrak

9:50 - 10:00a

BREAK

10a

Amtrak - National Network Expansion

Larry Chestler, VP for Long Distance Service Line, Amtrak

10:30 - 10:45a

BREAK

10:45a

Onboarding: Understanding the Path to Normal Travel & Commuting Patterns

Joe McAndrew, Vice President for Regional Mobility & Infrastructure, Greater Washington Partnership
Benét J. Wilson, Senior Editor, The Points Guy
Arthur L. Guzzetti, Vice President – Policy and Mobility, American Public Transportation Association

11:30 - 11:45a

BREAK

11:45a

Keynote

Tony Coscia, Chairman of the Board, Amtrak

12:15 - 12:30p

BREAK

12:30p

Day on the Hill: Legislative Briefing & Preparation

Sean Jeans-Gail, VP of Government Affairs & Policy, Rail Passengers Association

1:30p

Chairman's Closing Remarks

Ken Briers, Chairman of the Board, Rail Passengers Association
"Thank you to Jim Mathews and the Rail Passengers Association for presenting me with this prestigious award. I am always looking at ways to work with the railroads and rail advocates to improve the passenger experience."
Congressman Dan Lipinski (IL-3)
February 14, 2020, on receiving the Association's Golden Spike Award