Happening Now
Hotline #1,116
May 10, 2019
Harsh Response For Amtrak Board Nominee; Anti-Rail Bills Fail In Texas; Rail Passengers' Respond To Tone-Deaf Washington Post Editorial; Members of Congress Oppose Amtrak Police Cuts; Summer By Rail 2019 Intern Announced
Tell Us What's Happening Where You Live'! When you see rail-related news stories, op-eds, editorials, or letters to the editor in your communities, send them along to us! We include them in our social media efforts, along with the weekly Hotline. Send your news items to Joe Aiello at jaiello[at]narprail.org, and we will share it with members. Are you holding a rally, a community meeting, or another kind of rail-advocacy event? We can help spread the word if you send them to us. We can put them on the website, here. Please follow Rail Passengers on Facebook and Twitter to stay up to date on all things passenger rail.
---
The May 2019 edition of the 'Passengers Voice' is now available. Check out the stories on potential Infrastructure proposals; the Association's record-breaking 2019 'Day on The Hill'; the upcoming 90th anniversary of the Empire Builder and much more.
---
The Trump Administration has nominated a former congressman who repeatedly voted to end Amtrak, drawing a harsh rebuke from the Rail Passengers Association, which promised to vigorously oppose his confirmation in the Senate.
Rail Passengers President and CEO Jim Mathews issued a strongly worded condemnation following the White House's announcement, which was quickly picked up by Politico.
"Our leadership has been skeptical of the many questionable Amtrak board nominations put forward by this administration, and this is a step too far," said Mathews. "Mr. Rokita may end up saying the right things during his confirmation hearing, but we can say without a doubt that he has no appreciation for the way Amtrak-served communities depend on the National Network to connect them to the rest of America, and hasn't spent time developing a vision for how Amtrak could better serve America's passengers."
Rail Passengers found that Rokita voted against Amtrak in 8 of the 13 Amtrak-specific amendments we tracked. Some of Rokita's most eyebrow-raising anti-Amtrak votes include:
2017 – Voted YES on H.Amdt. 287 to H.R. 3354, filed by Rep. Mo Brooks, that would have eliminated funding to Amtrak's National Network (the amendment failed).

2015 – Voted YES on H.Amdt. 72 to H.R. 749, filed by Rep. Tom McClintock, that would have completely ended federal grants for Amtrak (the amendment failed).

2011 – Voted YES on H.Amdt. 43 to H.R. 1, filed by Rep. Pete Sessions, would have reduced Amtrak's capital grant by $446 million (the amendment failed).
Rail Passengers was willing to take a wait-and-see approach when the Trump Administration nominated former Congressman Lynn Westmoreland in October of 2017; Westmoreland also voted in 2009 and again in 2015 to end all funding to Amtrak. During his confirmation hearings, Westmoreland said he now understood the importance of government funding to Amtrak. That patience was tested when the Trump Administration nominated Rick Dearborn, who worked at the Heritage Foundation, an organization that has consistently called for the elimination of Amtrak.
The pattern of repeated nominations of anti-Amtrak candidates to the Amtrak board, however, has forced Rail Passengers to stand up and vocally oppose Senate confirmation of these nominees.
"It has become painfully clear that these nominees are being selected not for their railroad expertise or ability to advance U.S. transportation, but because they were early supporters of Candidate Trump," concluded Mathews. "Amtrak is too important to treat as a reward for political loyalty."
All Amtrak board nominees are being held up by Rail Passengers' 2019 Golden Spike-winner Senator Jerry Moran (R-KS), a move protesting Amtrak's 2018 decision to terminate the Southwest Chief (which was successfully opposed). Rail Passengers is working with Senate staffers to make sure that these nominations don't advance.
Rail Passengers is already working to stop this nomination from being approved by the Senate. Your $50 donation supports the Association's continuing efforts to hold Washington, D.C., accountable for their blatant disregard for the National Network and all rail passengers.
---
All eleven anti-rail bills put forward in the Texas state legislature during this current session are now officially dead, Texas Rail Advocates reports. These are all bills that originated in the House and were not heard on the House floor by the midnight deadline last night. Four bad bills remain on tap in the Texas Senate, and the legislative session has another 17 days to go. Advocates will keep an eye on developments in Austin...so stay tuned and keep fighting!
---
Washington Post Launches Misguided Attack On Passenger Rail
Tone-Deaf Op-Ed Dismisses Needs Of Flyover Country's Seniors, Vets As 'Special Pleading'
May 6, 2019
by Jim Mathews/President and CEO

The Washington Post's May 3 editorial attacking America's long-distance train service is both misguided and mean-spirited, proceeding from a false economic premise and concluding by writing off tens of millions of Americans who don't live in cities like the Post's own D.C. headquarters.
The editorial pointed to "losses" on longer routes and the supposed superiority of the Northeast Corridor's financials to justify gutting the nation's interstate passenger rail system, trotting out the same tired talking points anti-rail interests have used for decades to club passenger rail – a thriving mode all over the world, in countries both large and small.
To read more of Jim's thoughts on the WaPo editorial, click here
---
While Washington waits to see whether the White House and Democrats can reach a compromise to produce a $2 trillion infrastructure proposal, a bipartisan group of representatives introduced legislation to make it easier for the private sector to team up with government on transportation projects.
Representatives Earl Blumenauer (D-OR), Mike Kelly (R-PA), Terri Sewell (D-AL), and Rodney Davis (R-IL) introduced the Building United States Infrastructure and Leveraging Development (BUILD) Act, which would raise the federal cap on private activity bonds for surface transportation and freight improvement projects by $5.8 billion.
"Our nation's roads and bridges are crumbling while our global competitors are making significant infrastructure investments," said Rep. Blumenauer. "Public-Private partnerships are one of a myriad of tools the nation needs to bridge the $2 trillion infrastructure investment gap."
The bill will raise the cap for bonds—which are paid back over time through user fees, taxes, or other forms of revenue—to more than $20 billion, enhancing the ability of state and local governments to create additional public-private partnerships for surface transportation projects.
Senate Remains Pessimistic
On the other side of Capitol Hill, many senators also seemed to think incremental steps forward would be the best path forward, taking a dim outlook on the chances of a grand, $2 trillion compromise.
"If I were being totally honest, no I'm not optimistic," said Senator Ben Cardin (D-MD). "Maybe I'll be surprised, we need it desperately. I hope I am surprised."
Senator Jack Reed (D-RI) echoed the comment, pointing to the increased appropriations levels for transportation that the House approved this week, arguing the Senate should adopt a similar strategy.
"I think despite the efforts of many of my colleagues for an infrastructure bill, most likely [the T-HUD appropriations] bill is going to be the infrastructure bill," said Sen. Reed.
---
Rail Passengers Track Update: Where are we and what're we working on? This section will give you updates on what Rail Passengers HQ is up to.
Jim Mathews, President & CEO, has had several meetings with railroad groups in DC as stakeholder groups compare notes on their proposed ideas for the upcoming transportation reauthorization -- and a lot of Rail Passengers' ideas are winning allies among key stakeholders. Jim also had three separate meetings with Amtrak leadership on issues ranging from reauthorization and on-time performance to the future of Amtrak's fleet and working more closely with the Association to inject real riders' concerns into the design process as new car designs come together. Last weekend Jim spent time crafting a sharp response to the Washington Post's anti-long-distance editorial, drafting a public statement as well as a letter to the editor.
Sean Jeans Gail, Vice President of Policy, worked with other stakeholder groups on a proposed infrastructure bill and the transportation reauthorization, and worked with Rail Passengers' new Summer by Rail candidate on this summer's journey.
Abe Zumwalt, Rail Passengers Director of Policy Research, would like to take this opportunity to remind hotline readers that 70% of American passenger trains run on freight railroads, and the majority of new service expansions for American passenger trains will run on America's freight rail network. Despite this, relatively few people in the passenger rail industry have direct experience on the freight side, crucial to finding essential common ground.
This is partly why, after six years with the Rail Passengers Association, Abe Zumwalt is moving on to consulting work that will give him direct experience in both passenger and freight rail industries. He will continue to be involved with the association with ongoing economic impact analysis of the national network, and through volunteer advocacy.
He is intensely grateful for the opportunity to be of service to so many colleagues that have become close friends, and will carry the mission of the association with him throughout his professional career. His last day full day with the Association will be Tuesday, May 21st.
Carolyn Cokley, Director of Customer Program, has had several conversations, this week, with Amtrak Managers discussing a variety of topics from the ACAC Customer Service Award to the ending of the ProntoForm Trip Report tool used by committee members to provide feedback to Amtrak. Carolyn has also had several discussions with members of Amtrak's Marketing and Business Development department to discuss additional ways the ACAC can continue to provide usability testing to Amtrak.
Joseph Aiello, Rail Passengers Northeast Field Coordinator, spent Saturday afternoon with nearly 50 Association members from the Northeast at the 2019 Division Meeting in Haverhill, MA. Wayne Davis and TrainRiders/Northeast were very gracious co-hosts of the event. Keep an eye on Joe's blog next week for more on this meeting.
Bruce Becker, Rail Passengers Vice-President of Operations, this week continued worked on the advance planning for Rail Nation California being held in Sacramento, Friday, October 18 through Monday, October 21, 2019. Discounted group-rate room reservations at the host hotel, the historic Sheraton Grand Downtown, are now available. Complete information on the event registration and the optional tours to be offered will posted on the event webpage in the coming days!
Jonsie Stone, Director of Resource Development, worked with the Policy team to develop two fundraising campaigns leveraging current events. You should have received emails and, hopefully, seen social media posts calling attention to the Washington Post's misguided attack on passenger rail and President Trump's nomination of Todd Rokita, the former Republican Congressman from Indiana to the Amtrak Board of Directors.
---
The Rail Passengers Association would like to welcome Talgo, Inc as our new Annual Partner.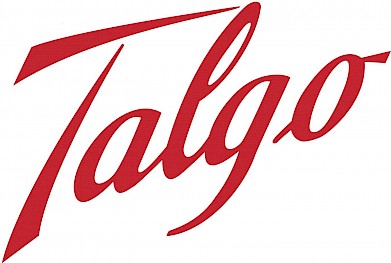 ---
Dues And Membership Cards: We've Heard You Loud And Clear
By Jim Mathews
We've shared with you in recent weeks the troubles we've had with processing our automatic membership renewal payments, and we know it's a bother for our loyal members. Many of you may have already heard from one of our staff calling you about your credit-card or your membership card, or maybe you got a call from one of our Board-member volunteers?
We know it's not right to make you wait as we continue to troubleshoot the many connections among our credit-card processor, our membership software, our website and our banking partners. So far we've still not identified all of the root causes, and we'll keep working on it until we do.
In the meantime, however, we need to keep making those calls. As much as staff loves talking with members, other work was beginning to pile up. We worked with Careers in Nonprofits to identify candidates with strong membership/nonprofit experience. I think we hit the jackpot!
M.A. started making phone calls last Wednesday. Catarina and Mesha filled out the outreach team Monday. We are very thankful to have them onboard. As you can see from the photo they have approached their work with smiles. If you happened to have been affected by declined membership transactions and one of these nice ladies calls you, feel free to share your Rail Passengers story. They are enjoying hearing from our members!
---
Only one host railroad -- Canadian Pacific -- this week got an 'A' on Amtrak's 2018 "report card" on how well host railroads get passengers to where they're going on time, and the average grade for all the hosts was a C.
"The grades are in and freight railroads are still figuring things out," Amtrak tweeted this week, showing CP at the top of the class with an A, followed by a B for BNSF and B-minuses for Union Pacific and CSX. Canadian National gets a D-minus, while Norfolk Southern remains at an F.
Amtrak's report card effort prompted an angry reaction from Norfolk Southern, whose lawyers sent Amtrak a cease-and-desist letter. Undeterred, Amtrak pointed out that N-S is by far the worst offender...and since that time Amtrak continues to highlight the good, the bad and the mostly ugly of freight-train interference.
All of us as Rail Passengers can help to do something about this. Contact your Congressman or Senator (or better yet, both!), and tell them TWO things: host railroads are ignoring the law (which has given Amtrak preference on freight tracks since 1973), and Amtrak needs legislation so that they can stand up for their passengers and enforce that law in the courts.
Your DC professional staff has made it EASY for you to get your message to your elected representative. Go here, and click the Write A Letter button. It really is that easy!
---
Why The US Has No High-Speed Rail
---
The top transportation chair in the House of Representatives warned Secretary Elaine Chao that if the U.S. Department of Transportation doesn't fall in line with standard practices on moving Congressionally funded transportation grants out to the state, lawmakers will have to pass a bill mandating action.
The disagreement centers whether the U.S. DOT counts Transportation Infrastructure Finance and Innovation Act (TIFIA) loans as a local contribution when considering transit grant applications. The unusual approach Chao's DOT has taken to count these loans as federal contributions has stalled many critical transit projects around the country, including Amtrak's new rail tunnels under the Hudson River, which is an essential not only for Amtrak's Northeast Corridor operations, but also for commuters accessing New York City every day.
"Congress has always assumed that when you borrow money and it's your obligation to pay it back, that counts as a local share," House Transportation and Infrastructure Chairman Peter DeFazio (D-OR) during a field hearing to tour the new Hudson River and Portal Bridge. "This administration has come up with a novel interpretation" that these loans should not count towards the local share when the U.S. DOT considers Capital Investment Grant applications for new transit projects.
"We hope maybe after the July hearing we will get this straightened out," DeFazio emphasized. But ultimately if we have to legislate to clarify the law and force them to follow the law, we will."
---
Members of Congress, from both sides of the aisle, have come out against Amtrak's proposed payroll cuts that could reduce their police force by 20% over the next three years. Representative John Katko (R-NY) and Senator Richard Blumenthal (D-CT) have both spoken about the potential slash in workforce, with Rep Katko saying that this is a time when Amtrak should be increasing their security. The Amtrak Police Force Labor Committee spent time this week visiting congressional offices to gather more support against this proposal.
While Amtrak officials have said that no police jobs will be cut, union officials are worried that there is no possible way to cut payroll without needing to slash their force from 452 members to 369 - to represent the needed 20% reduction.
---
Rail equipment built by Chinese government backed suppliers may be blocked from competing in the United States by a bill that could be introduced imminently. Companies like Chinese Railway Rolling Stock that have been underbidding on transit equipment contracts by millions of dollars would be barred from doing so. Currently, the company has operations in the United States from coast to coast in Los Angeles, Chicago, Philadelphia, and Boston.
The contention driving the bill, The Transit Infrastructure Vehicle Security Act (S. 846),is that Chinese state backed entities are actively attempting to undermine and supplant US domestic railcar manufacturing starting with transit, before moving on to freight. It was introduced by Sens. John Cornyn (R-Texas) and Tammy Baldwin (D-Wis.), and now has 27 bipartisan co-sponsors since March.
Given how hard-won equipment procurement is in the United States, passengers might be excused for wondering what supposed thriving industry is at threat. It's unfortunate that the we have yet to see a solution that wouldn't hamstring the railcar manufacturing industry in the first place to the point where it could find itself vulnerable to threat; dedicated funding for rail transit that can actually build a healthy industry in the first place.
---
Today, Friday, May 10, is the 150th Anniversary of the driving of the Golden Spike at Promontory Point, Utah which marked the completion of the country's first transcontinental railroad in 1869!
Celebrations are being held this weekend at the Golden Spike National Historical Park at Promontory Point and in nearby Ogden, UT, where the Union Pacific Railroad has brought together their steam locomotives #844 and newly rehabilitated 'Big Boy' #4014 for the festivities. #4014, a 4-8-8-4 articulated giant, is the only operating example of this class of locomotive. The 'Big Boys' were constructed by the American Locomotives Works in Schenectady, NY from 1941-44 and were the largest steam locomotives ever built. #4014 was retired from Union Pacific service in 1961. The railroad re-acquired it in 2013 with the goal of returning it to service. While originally fired with coal, it has now been converted run on oil.
---
The Massachusetts Bay Transit Authority (MBTA) will fall short of its planned capital project spending goal of $1 billion for fiscal year 2019 as the agency is blaming current staffing levels and "bureaucratic complexity". Steve Poftak, the current MBTA General Manager, said that they are disappointed that they were not able to hit this ambitious goal but confirmed that they plan on hiring more employees to fill in the necessary gaps. Governor Baker told reporters that he was critical of the agency's ability to spend the money that they have.
Maintenance and system upgrades will still run close to $775 million - which includes track & signal work, station cleaning, and current construction projects like the Green Line Extension - but it is predicted that the T will not be able to meet internal goals for the foreseeable future. The MBTA's overall plan is to spend over $7 billion to meet their backlog needs by 2032.
In March, the MBTA Fiscal and Management Control Board voted to approve a fare increase that will take effect on July 1st.
---
No Trains for You: the Dangers of Zero-Sum Thinking
Amtrak, Insufficient Funding and the Dangers of Zero-Sum Thinking
May 7, 2019
By Jason Lee, Rail Passengers Member
After riding trains in Europe and Asia, many Americans return home wondering why Amtrak is not more modern and comprehensive. Most developed countries prioritize and fund passenger rail, but in the United States many elected officials call for Amtrak to be profitable – a standard that passenger railroads in other countries and even other transport modes in the U.S. are not expected to reach.
Revenues today cover 95% of Amtrak's operational costs. But beyond a handful of showcase corridors, the outcome has not been so rosy: Despite a national population growth of nearly 120 million (57%) since Amtrak's founding, the rail network has shrunk by thousands of miles – leaving Las Vegas, Phoenix, Columbus, Nashville, Dayton, Boise and dozens of other cities without rail service. Large cities like Houston, Cleveland and Cincinnati only see trains three times per week or when most people are sound asleep. Meanwhile, Americans have lost vital rail connections in the South, the Midwest and the West. ­­
Why does Amtrak's network have so many gaps? More generally, why are there so many policy-induced public transit "deserts"? Why do 45% of Americans lack any access to transit, much less frequent transit?
Click here to read more of Jason's guest blog.
---
Los Angeles Metro expects a big year with record sales tax income in 2020, to the tune of an additional $600 Million over the previous budget, for a total of $7.2 Billion. The increase will cover costs concerning labor and benefits, as well as the debt and planning concerning vast system expansion.
LA Metro Light Rail is going to the Airport. It's going to Van Nuys. It's going to Artesia. And that's only a small fraction of what the agency is planning. The city is continuing work on perhaps the most ambitious transit expansion campaign in the country – and it's important to watch.
Note that the budget just for FY 2020 is near the $8 Billion that was given to all high-speed intercity rail projects by the Obama stimulus funds over a series of years. This is for one metropolitan area – a giant one, nonetheless – but still just one, rather than a nationwide endeavor. The difference is that the LA metro area is actually getting massive and comprehensive system. That has a lot to do with funding levels that are matching that of its massive highway system.
---
Our Best Fall Meeting Yet! Make Plans Now For Rail Nation California in Sacramento, Friday, October 18 - Monday, October 21.
Planning has been in high gear for the past few months, and we think this is truly going to be our best meeting yet! Over the four-day gathering, passenger rail advocates from across the country will take in area tours and trips, in addition to participating in Saturday's all-day Advocacy Symposium. Great speakers will talk about both history and the future, and real hands-on workshops will give you the tools you need to go back home and fight for passenger rail! The Association's Council of Representatives will hold its fall business meeting on Sunday morning.
Discounted Group Rate Room Reservations at the host hotel, the historic Sheraton Grand Downtown, are now available.
Watch for more information and details coming soon!
---
Upcoming Regional Rail Passenger & State Association Member Meetings and Other Events:
Please contact Bruce Becker to have a state or regional event or meeting added to the Rail Passengers calendar of upcoming events!
---
A bumpy Positive Train Control rollout last month gave the growing and widely praised Virginia Railway Express service a black eye, stranding commuters to and from Virginia's DC suburbs for hours and prompting loud complaints from a ridership group which has in the past been staunch defenders of their trains.
VRE operates two lines -- one from Fredericksburg to DC and another from Manassas to DC -- and the problematic PTC rollout dropped systemwide on-time performance to levels as low as 60%.
VRE has spent decades cultivating a passenger-oriented customer-service ethos, and it has served them well through the years as new coaches and host-railroad delays caused problems. Many passengers complained, however, that in this instance VRE has largely downplayed the effect of delays and done a poor job communicating with passengers about the problems.
System executives say May will be much better than April, and the service pointed to two relatively painless rush-hour periods on Tuesday and Wednesday as proof. Riders remain upset, however, especially those many federal employees who were forced to cash in accrued leave to cover the railroad's delays.
---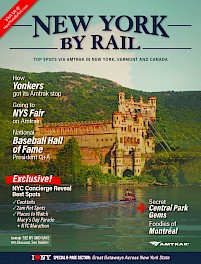 The 16th Edition of the 'New York By Rail' on-board magazine is now available! This year's publication contains 132-pages of information on what to see and where to visit across the Empire State; all accessible by Amtrak! New York By Rail also features a variety of all-inclusive travel packages to many of the state's most popular destinations, including Niagara Falls, Lake George and Saratoga Springs. The magazine can be found on board all Empire Corridor trains and at New York State Amtrak stations.
---
The Price is Right
May 9, 2019
by Joe Aiello | Northeast Field Coordinator
One of the biggest topics that any agency or advocate can tackle in this day and age is that of equity, especially when it comes to the world of public transportation. How do we even the playing field for every passenger, every line, and every neighborhood? This is a subject that we here at the Association has been talking about for some time.
Our friends at TransitMatters have broached the topic in their Regional Rail plan with a fare integration policy that makes the entire MBTA system more accessible to the low- and moderate- income residents who are only served by the much more expensive commuter rail.
Read more of Joe's blog here.
---
A bill being introduced in the Illinois House this week would cut fares on Metra Electric line, increasing affordable transit options on the South Side. State Representative Marcus Evans Jr (D-IL 33) wants to make it easier for residents to have access to public transportation by reducing the cost of a single ride on the Metra line to $2.50 from its current range of $4 to $5.50 - which places it even with CTA's rail fare. A Metra spokesman said that they are looking forward to working with the Representative on this bill and finding out how "feasible and affordable" it will be.
A study released by Cook County states that ridership on the Electric District would grow by nearly 85,000 riders a day if the fares were the same as the CTA.
It has long been a goal of local activists to have more frequent and affordable service along this line, which runs 30 miles from Millenium Station in Chicago to south suburban University Park, IL. The Coalition for a Modern Metra Electric, a group that includes the Midwest High Speed Rail Association, has called for "transit justice" for those living along the rail corridor - many of which rely on much slower bus routes to access downtown Chicago if they can not afford the Metra prices or fit the current train schedule.
---
Chef Madi Butler is Rail Passengers' 2019 Summer by Rail intern! Finding and exploring America's great food cultures is Summer by Rail's focus this year, and Chef Madi will ride Amtrak routes from Maine to California in search of the best cuisine. From the Downeaster to the Northeast Corridor, the Crescent to the City of New Orleans, and the Southwest Chief, Chef Madi will be making stops in some of America's best and most interesting kitchens. Along the way, she'll visit with Mayors, planners, local elected leaders and others to learn how rail mobility makes economies move and cultures -- especially food cultures -- grow.
She is graduate of Auguste Escoffier School of Culinary Arts, and passionate about creating fun menus that preserve artisanal methods while experimenting with new flavors. Hailing from the Bluegrass State, Madison is an advocate for sustainable agriculture and food accessibility. She completed training under Austin chefs Amy March, Paul Qui, and Gregory Dishman, and has since pursued a variety of consultant and private chef roles internationally. When she isn't assembling food trucks, tweaking software and training fry cooks, she can be found in friends' restaurants. Madison also volunteers to prepare food for various groups and shelters to assist those who struggle with food security.
Chef Madi's call to join the Rail Passengers Association was brought on by her interest in transportation by rail. After her childhood in Kentucky where public transit services are limited, she has gone on to ride internationally. She has continued her passion by trying to find rail routes to and from her culinary events and is deeply appreciative to do so now with this new experience. By fusing rail culture and food culture, she hopes to provide insight on accessible, sustainable experiences with each community's special charm and individual transit needs.
---
PASSENGER SERVICE NOTICES
Piedmont Trains 74, 75, 76 and 77
Track Work Affects Service Select Dates June 10 through July 9, 2019
Track work being performed by Norfolk Southern will affect Piedmont service on select dates beginning June 10 through July 9.
Monday and Tuesday June 10 and 11; June 24 and 25; July 1 and 2; Tuesday, July 9
Piedmont Service
Trains 74, 75, 76 and 77 which operate between Charlotte and Raleigh, are cancelled. Alternate transportation is not provided.

All other Carolinian and Piedmont service trains will operate normally on these dates.
Wolverine Service Train 353
Effective Tuesday, May 7, 2019
To accommodate scheduled track work on Amtrak's Wolverine Service, the station stops will be adjusted as follows:
Tuesday, May 7
Train 353:
This train will bypass the Troy station stop. Passengers may board or detrain at Royal Oak or Pontiac stations. Passengers may choose to travel on alternate dates or book another Amtrak service.
Vallejo Amtrak Thruway Stop Moves to a New Location
Effective May 20, 2019
We are pleased to announce that the Amtrak Thruway Bus stop in Vallejo, CA, will move from Denny's to the below address:
Curtola Park-N-Ride. 801 Curtola Parkway Vallejo, CA 94589
This new location will have better ADA accommodations, improve interconnectivity with local services and improve parking options for passengers.
New York Penn Station Infrastructure Renewal Work
June 28 through Sept. 2, 2019
Continued Infrastructure Renewal at New York Penn Station
Amtrak will continue its Infrastructure Renewal program at New York Penn Station during Summer 2019, affecting service of Northeast Regional, Keystone, Cardinal, Adirondack and Maple Leaf trains.
Amtrak Schedule Changes
Northeast Regional Trains 110 and 127 will be cancelled

Keystone Train 640 will terminate in Newark, Train 643 will originate in Newark and Train 653 will depart New York a few minutes earlier than scheduled

Cardinal Train 51 will depart New York early on weekdays only

Maple Leaf Train 63 and Adirondack Train 69 will run as a combination train on Train 63's schedule. The trains will split in Albany.
Any passenger already booked on a train will be contacted and accommodated on other scheduled services.
Customer Information:
The following resources are available for all Amtrak customers:
Amtrak.com/NYPrenewal: Find the latest train schedule information, project overview and updates.

Amtrak Social Media: Customers can follow @AmtrakNECAlerts and @Amtrak on Twitter for timely information.

Email or text alerts: Amtrak now offers a new feature that will allow customers to sign up to receive customized texts or emails for train and service information.

Amtrak.com and the mobile app: Get train status information or modify existing reservations.
Keystone Service and Pennsylvanian Trains 42 and 43
Reservations Required Memorial Day Weekend
Friday through Tuesday, May 24 through 28, 2019
To better accommodate the increased number of passengers traveling during Memorial Day Weekend, reservations will be required on all Pennsylvanian and Keystone Service trains from Friday, May 24 through Tuesday, May 28.
Note: Monthly and ten-ride tickets will be accepted on these dates.
Holiday Travel Reminders
To avoid ticket counter lines, passengers are encouraged to utilize eTicketing.

Allow ample time to arrive at the station and board the train.

Make sure your baggage is tagged with your name and address.
Hoosier State Trains To Be Suspended
Effective July 1, 2019
A federal law requires states to pay a portion of the cost of certain Amtrak trains. Indiana's state budget does not include funding for the Hoosier State trains, starting July 1, 2019.
What You Need to Know
The Amtrak Hoosier State, Trains 850 and 851, normally runs Sunday, Tuesday, Wednesday and Friday to and from Chicago, Dyer, Rensselaer, Lafayette, Crawfordsville and Indianapolis.
The State of Indiana has not agreed to fund the service in accordance with Section 209 of the Passenger Rail Investment and Improvement Act.
Hoosier State trains have been removed from our reservation system, starting July 1.
Amtrak and State of Indiana officials are in discussions for the continuation of the Hoosier State service. Additional information will be posted as it becomes available.
Alternatives: Amtrak Cardinal Trains and Amtrak Thruway Buses
The Amtrak Cardinal, Trains 50 and 51, continues to provide service to and from Indianapolis, Crawfordsville, Lafayette, Rensselaer, Dyer and Chicago three days each week. Train 50 departs Chicago on Tuesday, Thursday and Saturday, while Train 51 departs Indianapolis on Monday, Thursday and Saturday.
Amtrak Thruway Buses continue to operate multiple times daily to and from the Amtrak stations in Indianapolis, Lafayette and Chicago.
____________________________________________________________________________
Travelers' Tip For The Week
Whether you are new to rail travel or a seasoned rider here is some information that may come in handy in your travels.
Journey with WiFi
Whether you are on business travel and need to remain in touch with the office or leisurely traveling your way across country and need to keep in touch with friends and family, many of us will have a need for WiFi in our journeys on Amtrak. To help you connect, Amtrak offers free basic WiFi service on and in select trains and stations that is inconsistent and low-bandwidth. To ensure there is enough bandwidth for all onboard users, this free amenity supports general web browsing activities only. Amtrak WiFi does not support high-bandwidth actions such as streaming music, streaming video or downloading large files. Amtrak currently provides WiFi aboard these train routes and station locations:
Trains
Acela Express

Adirondack (not available in Canada)

Amtrak Cascades (not available in Canada)

Auto Train

Blue Water

Capitol Corridor

Cardinal

Carolinian

Crescent

Downeaster

Empire Service

Ethan Allen Express

Hiawatha Service

Hoosier State

Illini/Saluki

Illinois Zephyr/Carl Sandburg

Keystone
Lake Shore Limited

Lincoln Service

Maple Leaf (not available in Canada)

Missouri River Runner

New Haven - Springfield Shuttle

Northeast Regional

Pacific Surfliner

Palmetto

Pennsylvanian

Pere Marquette

San Joaquins

Silver Meteor

Silver Star

Vermonter

Wolverine Service
Stations
Baltimore, MD Penn Station

Boston, MA South Station (inside ClubAcela only)

Buffalo-Depew, NY

Chicago, IL Union Station

Lorton, VA

New York, NY Moynihan Station

New York, NY Penn Station (in gate areas and inside ClubAcela)

Philadelphia, PA 30th Street Station (in gate areas and inside ClubAcela)

Providence, RI

Rochester, NY

Sanford, FL

Saratoga Springs, NY

Syracuse, NY

Washington, DC Union Station (in gate areas and inside ClubAcela)

Westwood, MA Route 128

Wilmington, DE Biden Station
Amtrak's onboard WiFi network relies on bandwidth provided by cellular carriers who have towers along the routes. The bandwidth available from these towers is limited and the train speed will not match stationary WiFi networks that you connect to at home or in your office, library or coffee house. Access to streaming media and large files sizes will be limited so make sure you download any necessary large files, movies and music prior to boarding.
Amtrak WiFi is a public WiFi network that does not require any secure pass code or login. It is not protected and communications can be intercepted. You are solely responsible for the security of your data and equipment from any viruses or spyware. You are also solely responsible for any security breach or accidental disclosure of your personal information.
You can also create your personal hotspot with your cell phone which allows you to create your own secure mobile WiFi/MiFi that connects all your electronic devices. Follow your phone provider's instructions to setup and connect your electronics as well as traveling friends and family. Hotspot connections consume your data bandwidth, so an unlimited data plan is always best for this method. Make sure you secure your hotspot with a password!
Have a 'Travelers Tip' you would like to share or have a question/topic you would like us to address, please drop us a message at [email protected] - Attention 'Travelers Tips.
---
Your Feedback is Important to Improving American Passenger Trains
As you travel, please help us promote the Travel Review with other rail passengers. As you encounter passengers who want to make their positive and negative opinions known, please direct them to www.railpassengers.org/Travel Review. All participants will remain anonymous. If you encounter any problems with the Travel Review, or have any questions, please send an email to [email protected]
Do You Need More TravelReview Feedback Cards?
Please help us to spread the word. We need your help in engaging other passengers when you travel and let them know that their feedback is welcomed by RailPax. To facilitate this sharing of information the TravelReview Feedback Card is now available for you to download and print for regular usage. The card can be given to fellow passengers to introduce the work that RailPax is doing as well as our desire to have their feedback. The cards can also be left behind in stations as you pass through.
The template is in a .pdf format and will open in Adobe document cloud. First download the file and save it to your desktop for easy access. Then print as needed. The original template is formatted for Avery 5871 or 5371 cardstock which are both 2" x 3½" business card formats. Any brand cardstock should function as long as the dimensions match.
If you experience any problem in accessing the file, please send an email to [email protected]
---
Planning a summer vacation including trains (and who wouldn't be?), then you need a copy of Lonely Planet's 'Amazing Train Journeys' guidebook! And with every purchase Lonely Planet will donate 15% of the proceeds to your Association, to help us keep working for More Trains, Better Trains and a commitment to better infrastructure.
Through this beautiful book, you'll experience 60 of the world's greatest and most unforgettable train journeys, from classic long-distance trips like Western Canada's Rocky Mountaineer and Darwin to Adelaide's The Ghan, to little-known gems on regular commuting lines. It's the culmination of asking more than 200 travel writers for their absolute favorites.
Some are epic international adventures, others are short suburban routes along stunning coastline. There are incredible feats of engineering, trains that snake their way through mountain peaks, and even those which have achieved Unesco World Heritage status.
More than just a collection, each profile will give you the practical information you need to experience one or more of these epic journeys yourself -- including ticket options, timetables and stops, plus inspiring photos and illustrated maps. It's all here!
Amazing Train Journeys is available as a book, e-Book or in both formats at a low combination price. And your purchase helps supports your Association's mission too! Remember, Lonely Planet is contributing 15% of all Amazing Train Journeys sales to Rail Passengers! You can order copies by clicking here!
DON'T SLEEP ON THIS! USE YOUR MEMBER DISCOUNTS FOR EXCLUSIVE SAVINGS!
Rail Passengers' partnership with MemberDeals will give members access to exclusive savings on movie tickets, theme parks, hotels, rental cars, tours, Broadway and Vegas shows and more through the members only area of the Rail Passengers website. Be sure to check back often as new products and discounts are constantly being added!
Whether you are from Bakersfield, Bismarck or Boston, Rail Passengers and MemberDeals have you covered! Our MemberDeals partnership covers venues, services and attractions throughout the country...take a look to see where there might be savings on fun outings near you!
Remember, if you want to use these great internet-only discounts, you must be a member in good standing AND be logged in to the Rail Passengers website. If you need help accessing these discounts email us at [email protected], or call the office at 202-408-8362.
---
Openings Available For Rail Passengers State Council Representatives
The following vacancies now exist for state representatives on the Rail Passengers Council of Representatives: Alabama (1 opening); California (6 openings); Idaho (1 opening); Illinois (1 opening); Louisiana (1 opening); Minnesota (1 opening); North Dakota (1 opening); Ohio (2 openings); Pennsylvania (1 opening); Texas (1 opening); Utah (1 opening); Washington State (1 opening); Wyoming (1 opening)
If you are interested in becoming more involved in passenger rail advocacy and serving in a Rail Passengers leadership role, this is your opportunity to be considered for an appointment by the Board of Directors to an open state representative seat. There is no deadline to apply and submissions will be considered on a rolling basis as they are received.
Please review the position responsibilities & required qualifications and complete & submit a Candidate Information Statement if you would like to seek a position.
---
"The Rail Passenger Association's recognition of the essential work done by SMART-TD members aboard Amtrak during this difficult period is appreciated. The Golden Spike Award serves as a testament to the compassion and dedication our conductors, assistant conductors and other workers exhibit constantly through times both ordinary and extraordinary."
Jeremy Ferguson, SMART-TD President
December 21, 2021, on the Association awarding its 2021 Golden Spike Award to the Frontline Amtrak Employees.