Happening Now
Hotline #1,121
June 14, 2019
FRA Announces Rail Improvement Grants; Wisconsin Approvals Hiawatha Expansion Funds; Massachusetts Advances Funds For Pilot Service To Pittsfield; MBTA Rail Accidents Frustrate Riders; Amtrak Celebrates The Empire Builder's 90th Anniversary & The Heartland Flyer's 20th; Amtrak Showcases Progress On Acela II Trainsets
Tell Us What's Happening Where You Live'! When you see rail-related news stories, op-eds, editorials, or letters to the editor in your communities, send them along to us! We include them in our social media efforts, along with the weekly Hotline. Send your news items to Joe Aiello at jaiello[at]narprail.org, and we will share it with members. Are you holding a rally, a community meeting, or another kind of rail-advocacy event? We can help spread the word if you send them to us. We can put them on the website, here. Please follow Rail Passengers on Facebook and Twitter to stay up to date on all things passenger rail.
---
The June 2019 edition of the 'Passengers Voice' is now available. Check out the stories on Amtrak's plans for new long distance equipment; Amtrak's continued focus on on-time performance; the end of Indiana's Hoosier State service; Summer By Rail 2019 and much more.
---
The Federal Railroad Administration (FRA) this week announced the recipients of more than $326 million in FY 2018 grant funds under the Consolidated Rail Infrastructure and Safety Improvements (CRISI) Program and the Special Transportation Circumstances Program, funding 45 rail projects across 29 states.
While long-delayed in its execution, this program was one of the central pieces Rail Passengers pushed for in the FAST Act surface transportation authorization, passed in 2015. It was designed to empower states and Amtrak to fund capital projects to improve and expand passenger rail service, incentivizing local officials to take ownership of intercity corridors.
One of the highlights of this round of funding is a $33 million grant to partially restore the Gulf Coast rail service between New Orleans, LA and Mobile, AL. While the service won't extend to Florida--at least initially--the route will see daily service.
Another project of note is the grant to Amtrak for the rehabilitation and future ownership of the 52-mile segment of current line between Palatka and Deland, which sees six daily long-distance trains (Silver Meteor, Silver Start and Auto Train). South of Deland, the line is already publicly owned by Sunrail, the Central Florida Rail Corridor commuter operator. This will be the first significant acquisition by Amtrak in recent times of a line used solely for long-distance trains and not part of a state-supported corridor.
The grants for passenger-specific improvements include:
Alabama, Louisiana and Mississippi — Restoring Intercity Passenger Rail Service Along America's Gulf Coast - Up to $32,995,516 - Southern Rail Commission - Combines 20 Gulf Coast projects in three states, assisting efforts to establish twice daily intercity passenger rail service from New Orleans to Mobile, Alabama, adding a Mobile station and improving grade crossings. Funds preliminary engineering and federal environmental reviews needed to upgrade track to connect Baton Rouge and New Orleans.

California — Construct Improvements at the Fullerton Junction Interlocking and Third Main Track between Control Point Atwood and Control Point Esperanza on the BNSF San Bernardino Subdivision - Up to $30 million - Southern California Regional Rail Authority - Project consists of multiple track and signal improvements, both east and west of the Fullerton train station, including constructing a 4.8-mile third mainline track. Reduces cascading delays to Amtrak, Metrolink and BNSF operations.

Florida — Amtrak Sanford Subdivision Infrastructure Renewal Project - Up to $3,850,000 - National Railroad Passenger Corporation (Amtrak) - Rehabilitates 52 miles of CSX Transportation's A-Line between Palatka and DeLand train stations in Florida. CSX will transfer the renovated track's ownership to Amtrak.

Indiana — Chicago South Shore & South Bend Rail Rehabilitation and Safety Improvement Project - Up to $2,831,705 - Chicago South Shore & South Bend Railroad - Upgrades 7.5 miles of rail, replacing 100-year-old, 90-pound track with 115-pound track between Michigan City and La Porte, Indiana. Upgrades an existing rail crossing north of Highway 35 in Michigan City, ensuring compatibility with the new track.

Rhode Island — TF Green Airport Intercity Rail Service Preliminary Engineering - Up to $2.8 million - Rhode Island Department of Transportation - Completes preliminary engineering and federal environmental review for a new Amtrak stop at TF Green airport in Warwick, Rhode Island, the only airport adjacent to the Northeast Corridor without direct access to it.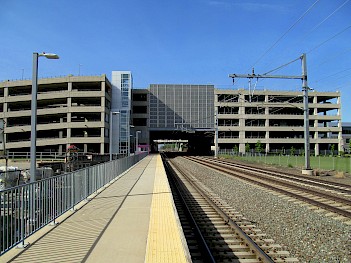 TF Green Airport Station - Credit - By Pi.1415926535 - Own work, CC BY-SA 3.0, https://commons.wikimedia.org/w/index.php?curid=65366460
Wisconsin — Milwaukee Area Passenger and Freight Rail Improvement Project: Milwaukee Intermodal Centralized Train Control Installation - Up to $2,699,451 - Wisconsin Department of Transportation - Upgrades signal system to centralized train control on approximately 2 miles of track surrounding the Milwaukee Intermodal Station on the state-supported Hiawatha Amtrak service, building on a fiscal year 2017 CRISI grant to add a second platform at the airport station. Enables the 20 freight trains and 16 passenger trains that daily travel the area to operate closer to permitted speeds.
---
Wisconsin's Legislature's Budget Committee approved funds last week to expand Amtrak Hiawatha service reported Wisconsin Public Radio.
The Legislature's budget committee included $35 million in their transportation budget to expand rail service between Milwaukee and Chicago on the busy Amtrak Hiawatha line. The money would provide matching funds for federal transportation grants to complete road improvements needed before service could increase from the current seven round trips daily to 10 round trips daily. The total cost of the project is approximately $195 million, according to the Wisconsin Department of Transportation. The Joint Finance Committee allocation is $10 million less than what Gov. Tony Evers proposed in his state budget proposal.
The DOT will also seek matching funding from other stakeholders, Arun Rao, DOT rail passenger program manager, said. "This was a very important step," Rao said. "We needed the state matching funds to leverage federal funding to get the additional frequencies. Without the matching funds, we could not move forward." Amtrak spokesman Marc Magliari said there's still a long way to go before passenger service will be increased. "The action is important, but it is not a conclusion," Magliari said. "We're a ways from knowing where this is going to end up."
---
New York City to Pittsfield (MA) weekend pilot service could start in 2020, thanks to $240,000 in state funding proposed by State Senator Adam Hinds and with budget amendments adopted by the state Senate in late May. The pilot service would operate from Memorial Day to Columbus Day.
Legislators are supposed to settle on a state budget by July 1. "We'll really know for sure in the next two weeks," Hinds said, "and then it'll go forward for the governor's signature." Governor Charlie Baker's signature would trigger a finalization of an agreement between the Massachusetts Department of Transportation and Amtrak to provide the service, Hinds said. (Baker's office has not responded to a request for comment.)
The service would be an extension of an existing New York to Albany-Rensselaer Empire Service train, which would reverse direction at Albany and use the Amtrak-owned Post Road Branch to connect with the CSX Boston Line, before reaching Pittsfield. The Boston section of the Lake Shore Limited uses this same route in western Massachusetts.
---
The Federal Railroad Administration has awarded $33 million to fund major infrastructure and capacity improvements to restore passenger rail service along the Gulf Coast, a huge step forward in the long battle to restore this missing link to the national passenger rail network. The Gulf Coast train was halted in 2005 after Hurricane Katrina severely damaged the route, and never restored—even after host railroad CSX brought the track back into operation for freight trains.
The $33 million award to the Southern Rail Commission will cover half the cost of the $65.9 million project, which will also be supported by a combination of investments from Mississippi, Louisiana, and Amtrak.
"Rail Passengers and our members—from all across the U.S., but especially along the Gulf Coast—have been working doggedly on restoring this critical passenger train corridor, the missing link in the National Network," said Rail Passengers Association President Jim Mathews. "We thank our members, allied groups like the Southern Rail Commission and Transportation for America, and particularly our friends in Congress for advancing this project, which will play a critical role in the region's economic growth."
One of the key voices on Capitol Hill has been U.S. Senator Roger Wicker (R-MS), chair of the U.S. Senate Committee on Transportation and Commerce, who helped launch the Gulf Coast Passenger Rail Working Group in the last surface transportation legislation.
"I am thrilled to announce this award, which will support the completion of a years-long effort to restore passenger rail service to the Gulf Coast," Senator Wicker said in a press release. "I thank Sec. Chao and the U.S. Department of Transportation for recognizing the importance of this effort and the positive economic impact this project will have for the communities along the route. For Mississippi, restoring passenger rail service is a symbol of the huge strides our state has made to recover from one of the most devastating storms on record. Reconnecting the Gulf Coast to our nation's passenger rail network will increase access to jobs, provide an alternative to highway travel, and improve quality of life in the region."
Other stakeholder groups added their voice to talk about the importance of the train to the region.
"As the inspection train rolled through scores of communities back in 2016, we were overwhelmed at the thousands of people who turned out in every stop to make it clear that they urgently want passenger rail service back in their communities," added John Robert Smith, chair of Transportation for America, former mayor of Meridian, and former member of the Amtrak Board of Directors. "But winning this award is not about nostalgia: it's about economic development, a return to vitality, and a connection to the future."
The federal grant, part of the CRISI program, will fund half the $65.9 million cost of the improvement projects, matched with local funds from Mississippi, Louisiana and Amtrak. The State of Alabama has yet to come through with their match, smallest of the three states, but local observers remain optimistic that a deal can be reached.
---
Rail Passengers Track Update: Where are we and what are we working on? This section will give you updates on what Rail Passengers HQ is up to.
Jim Mathews, President & CEO, spent a lot of time this week taking our message to the greater public. On Wednesday, for example, a group of travel and tourism business leaders from the U.S. southeast was in Washington to visit with their congressional delegations, and they asked Jim to present data on how trains benefit rural communities and draw tourists beyond the so-called "Gateway Cities" where international visitors usually stop. On Thursday, Jim sat in the Fox News DC bureau studios to do an on-camera interview about plans to bring new passenger rail service to the Gulf Coast. And today Jim spoke with USA Today.
Sean Jeans Gail, Vice President of Policy, met with Congressional staffers to discuss ways to advance passenger rail in upcoming budget legislation, briefed skeptical reporters on the economic benefits of passenger rail, and met with stakeholder groups to get them on board with Rail Passengers reauthorization proposals (available for review at www.railpassengers.org/blueprint)
Carolyn Cokley, Director of Customer Programs, has received several emails this week regarding the TravelReview. Some participants have reported challenges in completing the survey. Carolyn has been drilling down to determine if it is a user problem or a Survey Monkey problem. More details to come.
Joseph Aiello, Rail Passengers Northeast Field Coordinator, this week continued his work with the DC staff and Summer By Rail intern Chef Madi Butler in planning the nationwide summer event that kicks off in Portland, ME on June 28th. Joe also added his voice to the growing chorus of advocates taking the MBTA to task for the recent string of safety issues. You can read more about that in his newest blog post.
Bruce Becker, Rail Passengers Vice-President of Operations, this week worked with the DC office staff on streamlining the on-line, member experience and brainstorming methods to improve the flow of membership & donation payments. In addition, it was a busy new member week, with many first-time joiners who want to support passenger rail and take advantage of the Association's many benefits, including our 10% Amtrak discount for summer travel.
---
The Massachusetts Bay Transit Authority (MBTA) was thrown into chaos this week as a major derailment on the Red Line caused shutdowns, massive delays, and signal outages that could have repercussions for weeks. The derailment, which thankfully resulted in no injuries, happened just outside the JFK/UMASS stop around 6:00am on Monday morning and was the second derailment in just a few days after a Green Line trolley came off the tracks on Saturday afternoon. This was also the fifth such incident so far in 2019.
The derailed car took out a number of critical system sheds that were placed next to the tracks leading into the station. These units contained racks of electronic signaling and GPS equipment, as well as switches for the two separate southern branches of the Red Line. The MBTA has been running extra shuttle buses and supplemental commuter rail service along the route during the morning and evening rush period to help, but riders have commented that a normally 25 min commute is now taking up to an hour or more. No word has been given if they will extend this into next week, but officials have said that they will be running tests this weekend to determine if they can resume service on the Braintree branch through the JFK/UMASS station.
Even days after the accident occurred, riders have been taking to social media to express their frustrations with the delays and lack of communication from MBTA officials - especially since commuters face an increase in fares starting July 1st.
---
Off The Rails
How much more can commuters in Boston take?
June 13, 2019 - Joe Aiello | Northeast Field Coordinator
MBTA Derailments:
Two in the last week.
Four in the last four months.
Five (so far) in 2019.
43 in total over the last five years.
Thanks to the Red Line fiasco this week, it's been reported that the MBTA stands behind only behind the New Orleans Regional Transit Authority has the worst safety record in the country. We are already #1 in the country for worst traffic, maybe this is another top ranking we should NOT be striving for…
SInce activism works in real time, social media was all over this. Yours truly, of course, took part with my fellow transit folks to call attention to the myriad of problems with our current system here in Boston. Sadly, the more we learn about the aftermath of the latest derailment - the more it looks like this is going to take weeks to clear up.
Read more of Joe's thoughts here
---
Amtrak on Monday marked the 90th Anniversary of the Empire Builder. Inaugurated by the Great Northern Railway, the first westbound Empire Builder departed Chicago on the evening of June 10, 1929, but it was christened the next day in St. Paul, MN., where the GN had its headquarters and where its mainline to Seattle began. The premier service was named for James J. Hill – the "Empire Builder," who in the late 19th century founded what became the Great Northern.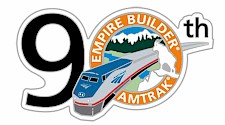 The Great Northern and Northern Pacific merged in 1970 to form the Burlington Northern, which continued to operate the Empire Builder until May 1, 1971, when newly-formed Amtrak took it over and changed the route to include Milwaukee by using what is now the Canadian Pacific Railway between Chicago and St. Paul.
Prints of a new Empire Builder painting by noted railroad artist J. Craig Thorpe are available in the Amtrak store and for a limited time other items to recognize the anniversary of the service are also available from Amtrak.
---
Amtrak on Monday started using the recently renovated historic Springfield, MA Union Station for ticketing and other passenger services, after operating out of a temporary, platform-level, facility for many years. Springfield is served by Northeast Regional trains, the Lake Shore Limited, and the Vermonter, in addition to the new CTrail New Haven-Hartford-Springfield commuter service trains. The multi-modal station also hosts local Pioneer Valley Transit Authority buses and Greyhound & Peter Pan intercity routes.
The station complex underwent a mutli-year $103m renovation, which included the addition of a parking garage and bus bays. Work continues on a new high-level platform which will be directly accessible from the station concourse and which is expected to open in 4 to 6 weeks.
Passengers will now be able to take advantage of the station's modernized amenities and updated waiting rooms. The station is open from 5:00am to midnight daily, with Amtrak ticketing available from 5:00am to 8:00pm. Dunkin Dounts and Subway have outlets in the station.
Additional north-south Amtrak service from Springfield to Holyoke, Northampton and Greenfield will begin in late August or early September. Two current daily New Haven to Springfield round trips will be extended, under a two-year pilot program funded by the state of Massachusetts.
The complex was positioned on the New York Central's former Boston & Albany mainline to allow east-west trains to operate straight through the station, but north-south trains have always been required to back in or out in one direction.
---
An investigative report from NBC Boston this week regarding overcrowded Downeaster trains, which included an interview with a pregnant woman and her husband who are both daily riders into Boston, prompted a response from Northern New England Passenger Rail Authority (NNEPRA) Executive Director Patricia Quinn on the current capacity issues on the route. In a letter that was handed out to commuters on Tuesday, Quinn explained that the number of monthly pass holders puts a strain on the amount of available seats because of the way the current system works - where riders with monthly passes can hop on any train without going through an online reservation. Quinn also stated that adding additional capacity to combat the high demand is not "feasible on a permanent basis" and that overcrowding to likely to continue.
NNEPRA is currently accepting public comment on a Fare Plan that would increase the cost of multi-ride passes in an effort to put them more in line with the MBTA Commuter Rail. Comments can be submitted through June 25th at 10am.
---
Amtrak introduced new Cafe Car menus on all Acela Express and Northeast Regional trains this past week. Newly featured items include hot White Cheddar Mac & Cheese, a Pepperoni & Cheese snack tray and Cavot Pinot Grigio wine which is available in half bottles.
Amtrak noted this week that the interior refresh of all 20 current Acela trainsets is now complete.
And on Tuesday, CBS News did a video story on the second generation of Acela trainsets now being manufactured by Alstom in Hornell, NY. The piece included an interview with a third generation worker at the facility, which originally was built as an Erie Railroad shop. The prototype train set is due to ready for testing later this year. The introduction of revenue is scheduled for 2021 and all 28 trains will be in service in 2022.
Also, this week one of the first refreshed Amfleet II coaches was spotted operating on the New York to Toronto Maple Leaf. The interior has new carpeting, new seat cushions & brighter LED individual over-seat lights, among other passenger-focused improvements and enhancements similar to those on the now completed Amfleet I cars.
Following-up on a topic of concern noted in Hotline #1,112, Amtrak has now deployed an all-table cafe car on the Lake Shore Limited, operating between Boston & Chicago. This greatly expands non-revenue space available for coach passengers. And during this summer's Boston section service adjustments, all three Lake Shore sleeping cars are operating between New York and Chicago. Business class service has been suspended (at least for the summer) and carry-on bike service is not currently being offered to/from Massachusetts stations.
Amtrak is offering a 30% discount 'Flash Sale' in honor of Father's Day, available for sale through Monday, June 17 and valid for travel from August 1, 2019 - November 7, 2019.
---
20th Anniversary Celebrations were held today at Oklahoma City and Fort Worth for the Heartland Flyer, which started service on this date in 1999. Rail Passengers' Chairman Peter LeCody joined with State DOT officials from both Oklahoma and Texas in recognizing the milestone. Katie Moore and her family were special guests at today's festivities; at age 11 Katie suggested the Heartland Flyer name for the new service.
Amtrak is offering a variety of special Heartland Flyer merchandise (for pre-order ONLY through June 24) in honor the anniversary.
And a special 20% discount is available for summer travel on the Heartland Flyer now through August 28th.
---
The Federal Railroad Administration is seeking input on a proposed change to regulations requiring commuter and intercity passenger railroads to develop and implement a system safety program (SSP) to improve the safety of their operations in response to petitions for reconsideration.
The change hinges on language clarifying that while all persons involved in providing passenger rail service are responsible for ensuring compliance, this does not restrict the ability of any operator or entity to designate responsibility where appropriate.
This rule will inform how the Confidential Close Call Reporting System and Risk Reduction programs are carried out, and will play a role in shaping how FRA oversees the execution of equivalent safety systems on routes not statutorily required to have Positive Train Control. Rail Passengers is reviewing comments to ensure that passenger interests are protected in this process.
---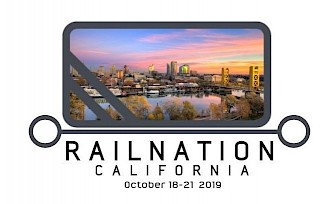 Our Best Fall Meeting Yet! Make Plans Now For RailNation:California in Sacramento, Friday, October 18 - Monday, October 21.
Planning has been in high gear for the past few months, and we think this is truly going to be our best meeting yet! Over the four-day gathering, passenger rail advocates from across the country will take in area tours and trips, in addition to participating in Saturday's all-day Advocacy Symposium. Great speakers will talk about both history and the future, and real hands-on workshops will give you the tools you need to go back home and fight for passenger rail! The Association's Council of Representatives will hold its fall business meeting on Sunday morning.
Meeting Registration Is Now Open and Tour & Trip Tickets Are Also On Sale!
Discounted Group Rate Room Reservations at the host hotel, the historic Sheraton Grand Downtown, are also available. Supply is limited...reserve your room today!
Be sure to check out the RailNation:California event page more information and further details.
With the planning for Saturday's Advocacy Symposium program now underway, a Call for Speakers is now open. RailNation:California could be your opportunity to present directly to activist passengers and commuters who rely on rail and fight for sustainable rail transportation in the U.S. We've designed three conference tracks - Inclusion & Equity, Making Change Happen and What Passengers Want - to look at rail travel's challenges and opportunities today…and tomorrow. See the linked information for details on these tracks and for a perspective on the types of topics Rail Passengers Association would like to see covered, but we also warmly welcome session proposals that may stretch the essence of the three topics. We want to hear from you!
Nominations are also open for the 2019 Ross Capon Citizen's Advocates Award to be presented during RailNation:California.
And to make all of this success, we need volunteers for the event! Check out these volunteer opportunities and let us know if you can help! Event volunteers who complete their agreed upon duties will receive 300 Amtrak Guest Rewards points as our 'thank you'!
---
Upcoming Regional Rail Passenger & State Association Member Meetings and Other Events:
Please contact Bruce Becker to have a state or regional event or meeting added to the Rail Passengers calendar of upcoming events!
---
PASSENGER SERVICE NOTICES
Cal Poly University Commencement Events Affect Amtrak Thruway Service
Saturday and Sunday, June 15-16, 2019
Attention Amtrak Passengers:
On Saturday, June 15 and Sunday, June 16, the Cal Poly commencement events will cause road closures and heavy traffic around the University.
As a result, Amtrak's Thruway Buses 4003, 4010, 4761, 4762, 4763, 4767, 4777, 4782, 4792, 4796, 6234 and 6237 will be unable to access the San Luis Obispo (Cal Poly) stop.
Buses 4004, 4015, 4768 and 4785 will continue to stop at San Luis Obispo (Cal Poly) during late night and early morning hours.
All Thruway service will run normally at Amtrak's San Luis Obispo station stop.
Lompoc, CA Flower Festival Parade Affects Amtrak Thruway Service
Saturday, June 29, 2019
Attention Amtrak Passengers:
Saturday, June 29, the city of Lompoc is hosting the annual Lompoc Flower Festival Parade. The parade route will impact Amtrak's Thruway buses accessing the Lompoc stop due to road closures.
Parade is scheduled to operate from 10:00 am to 12:00 pm on the route shown below: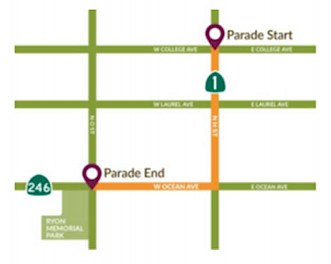 Newark International Airport Station Temporarily Closed
Effective June 22 through 23, 2019
Attention Amtrak Passengers:
Due to annual substation maintenance, Newark Liberty International Airport station will be closed, and trains will not be stopping there between 9:30 pm on June 22 through 12:00 pm on June 23.
Passengers traveling to Newark Liberty Airport will need to access shuttle buses at Raymond Plaza West, in the front of Newark Penn Station.
Newark Penn Station waiting room will be open during this time, but no seating will be available.
Bus Service
Buses will "load and go" and will not follow train schedules. New Jersey Transit personnel will check New Jersey Transit and Amtrak tickets as passengers board the bus
Carolinian Train 80 Extra Service between Washington, D.C. and New York
Thursdays, Fridays and Sundays June 6 through Aug. 29, 2019
Attention Amtrak Passengers: Amtrak is providing extra service on the Carolinian Train 80, between Washington, D.C. and New York on Thursdays, Fridays and Sundays, June 6 through Aug. 29. See detailed schedule below.
| | |
| --- | --- |
| Station | Train 80 |
| Washington, DC | 5:15 PM |
| Baltimore | 5:50 PM |
| Wilmington | 6:39 PM |
| Philadelphia | 7:04 PM |
| Trenton | 7:35 PM |
| Newark | 8:15 PM |
| New York | 8:38 PM |
Lake Shore Limited Trains 448 and 449
Track Work Affects Service Sunday through Thursday
May 19 through August 1, 2019
Attention Amtrak Passengers:
Track work being performed by CSX will affect Trains 448 and 449 between Albany and Boston, as follows:
Train 448 Albany – Boston Service: May 19-23, 27-30; June 2-6, 9-13, 16-20, 23-27, 30; July 1- 3, 7-11, 14-18, 21-25, 28 - August 1. Bus service will operate from Albany to Boston on the above dates.
Customers who are traveling to Pittsfield, Springfield, Worcester and Boston (South Station) will get off the train at Albany on the dates above. At Albany, bus service will be provided to and from all stations listed above. No alternate transportation will be provided for missed stop of Framingham. Passengers traveling to Back Bay will be bussed to Boston and then may take an MBTA or Amtrak commuter train between Boston and Back Bay.
Holiday Exceptions:
Independence Day Train 448 will operate normally to Boston on July 4
Train 449 Boston – Albany Service: May 20-23, 28-30; June 3-6, 10-13, 17-20, 24-27; July 1-3, 8-11, 15-18, 22-25, 29 - August 1
Train 449 will not operate between Boston (South Station) and Albany on the dates above. Passengers boarding at Boston (South Station), Worcester, Springfield and Pittsfield will be provided bus service to Albany. No alternate transportation will be provided for missed stops at Back Bay and Framingham. Passengers traveling from Back Bay will have the option of boarding at Boston or traveling on alternate dates.
Boston (South Station) and Worcester
Passengers at Boston South Station should go to the Amtrak Information Desk for instructions on boarding the buses.

Passengers at Worcester will board the bus at the main entrance in front of the station. Boarding will not occur at the Bus Terminal.
Please Note: There will be no Business Class or sleeping car service to/from Boston during this period. Passengers can transfer to & from sleeping cars on the New York section of the Lake Shore at Albany-Rensselaer. Carry-on bike service is not availbale to & from points east of Albany.
---
Travelers' Tip For The Week
Never Lose Track of Where You Are
You fall asleep while gazing out of the window and wake up 30 minutes later and ask, where am I? Passing by new landscape on a train can leave you feeling a little lost. Of course, you will be aware of your general location-based on the train station locations. But, there are several ways for you to accurately pinpoint your location or even identify a passing point of interest.
Visiting Amtrak.com to learn the real-time status of a train is easy. Click "Train Status" on the top bar of the homepage and enter a few key pieces of information to learn when a train will be arriving.
Make sure you also download Amtrak's mobile app. Click the "Status" icon at the bottom ribbon and you'll have two search options: by specific train or between stations.
Don't forget that Amtrak also provides an interactive tool hosted by Google that taps into the onboard Global Positioning System (GPS) and tracks more than 300 daily Amtrak trains and more accurately predict arrival times. "Track A Train" gives train status, estimate arrival times and station information for every Amtrak train across the entire Amtrak system. The map covers coast to coast movements, 365 days a year and can be accessed 24 hours a day with just the click of a mouse.
Smartphones are also capable of GPS functions and can be used to track your position as well as approximate speeds. Most phones have a basic map function that will work as long as you can keep a data signal which can be a problem traveling on long distance routes. Search your Android or Apple app stores to see what is available to make your travel more productive and enjoyable.
If you are really old school and don't have a smartphone, a paper map is the way to go. They still make them, and it is very easy to mark your route as you travel along the train tracks.
Have a 'Travelers Tip' you would like to share or have a question/topic you would like us to address, please drop us a message at [email protected] - Attention 'Travelers Tips'.
---
Your Feedback is Important to Improving American Passenger Trains
As you travel, please help us promote the Travel Review with other rail passengers. As you encounter passengers who want to make their positive and negative opinions known, please direct them to www.railpassengers.org/Travel Review. All participants will remain anonymous. If you encounter any problems with the Travel Review, or have any questions, please send an email to [email protected]
Do You Need More TravelReview Feedback Cards?
Please help us to spread the word. We need your help in engaging other passengers when you travel and let them know that their feedback is welcomed by RailPax. To facilitate this sharing of information the TravelReview Feedback Card is now available for you to download and print for regular usage. The card can be given to fellow passengers to introduce the work that RailPax is doing as well as our desire to have their feedback. The cards can also be left behind in stations as you pass through.
The template is in a .pdf format and will open in Adobe document cloud. First download the file and save it to your desktop for easy access. Then print as needed. The original template is formatted for Avery 5871 or 5371 cardstock which are both 2" x 3½" business card formats. Any brand cardstock should function as long as the dimensions match.
If you experience any problem in accessing the file, please send an email to [email protected]
---
Planning a summer vacation including trains (and who wouldn't be?), then you need a copy of Lonely Planet's 'Amazing Train Journeys' guidebook! And with every purchase Lonely Planet will donate 15% of the proceeds to your Association, to help us keep working for More Trains, Better Trains and a commitment to better infrastructure.
Through this beautiful book, you'll experience 60 of the world's greatest and most unforgettable train journeys, from classic long-distance trips like Western Canada's Rocky Mountaineer and Darwin to Adelaide's The Ghan, to little-known gems on regular commuting lines. It's the culmination of asking more than 200 travel writers for their absolute favorites.
Some are epic international adventures, others are short suburban routes along stunning coastline. There are incredible feats of engineering, trains that snake their way through mountain peaks, and even those which have achieved Unesco World Heritage status.
More than just a collection, each profile will give you the practical information you need to experience one or more of these epic journeys yourself -- including ticket options, timetables and stops, plus inspiring photos and illustrated maps. It's all here!
Amazing Train Journeys is available as a book, e-Book or in both formats at a low combination price. And your purchase helps supports your Association's mission too! Remember, Lonely Planet is contributing 15% of all Amazing Train Journeys sales to Rail Passengers! You can order copies by clicking here!
ADVENTURE AWAITS! GET ACCESS TO HUGE SAVINGS ON TICKETS TO UNIVERSAL ORLANDO RESORT.
MemberDeals is excited to offer Rail Passengers members exclusive discounts for Universal that are not available to the public! https://memberdeals.com/railpassengers/pages.php?sub=usf&login=1
New Harry Potter experiences await you in Orlando.
The Wizarding World of Harry Potter™ is welcoming an epic new addition—an extraordinary new adventure that's taking flight at Universal Orlando Resort on June 13, 2019. In this amazing place you can step inside the story on the streets of Diagon Alley™ where hidden dangers lurk far beneath Gringotts™ bank. Travel to the village of Hogsmeade™ and into Hogwarts™ for a spellbinding journey through the skies. Soon, you'll be able to experience the wizarding world like never before—joining Hagrid™ as you fly beyond the grounds of Hogwarts™ castle and soar into the Forbidden Forest to discover rare magical creatures on an all-new thrilling roller coaster. For discounted tickets visit; https://memberdeals.com/railpassengers/pages.php?sub=usf&login=1
Remember, if you want to use these great internet-only discounts, you must be a member in good standing AND be logged in to the Rail Passengers website. If you need help accessing these discounts email us at [email protected], or call the office at 202-408-8362.
---
Openings Available For Rail Passengers State Council Representatives
The following vacancies now exist for state representatives on the Rail Passengers Council of Representatives: Alabama (1 opening); California (6 openings); Idaho (1 opening); Illinois (1 opening); Louisiana (1 opening); Minnesota (1 opening); North Dakota (1 opening); Ohio (2 openings); Pennsylvania (1 opening); Utah (1 opening); Washington State (1 opening); Wyoming (1 opening)
If you are interested in becoming more involved in passenger rail advocacy and serving in a Rail Passengers leadership role, this is your opportunity to be considered for an appointment by the Board of Directors to an open state representative seat. There is no deadline to apply and submissions will be considered on a rolling basis as they are received.
Please review the position responsibilities & required qualifications and complete & submit a Candidate Information Statement if you would like to seek a position.
"On behalf of Amtrak's onboard service staff, I want to thank the Rail Passengers Association for honoring their hard work with this award. The past couple years have indeed been difficult for Amtrak onboard service staff – coping with furloughs and job insecurity, adapting to changing protocols and services, not to mention the unfortunate events such as a tragic derailment and a fatal shooting. Nevertheless, our dedicated members at Amtrak have handled these hurdles with the care, attention and diligence for which they're known. We thank Rail Passengers for their acknowledgement of our members' hard work and, as always, look forward to seeing you on the rails."
Arthur Maratea, TCU/IAM National President
December 21, 2021, on the Association awarding its 2021 Golden Spike Award to the Frontline Amtrak Employees.