Happening Now
Hotline #1,111
April 5, 2019
This week's abbreviated edition of the Hotline includes a brief recap of Rail Nation DC; a list of upcoming regional meetings and the latest Passenger Service Alerts
We Need Your 'Nose For News'! When you see rail-related news stories, op-eds, editorials, or letters to the editor in your communities, send them along to us! We include them in our social media efforts, along with the weekly Hotline. Send your news items to Joe Aiello at jaiello[at]narprail.org, and we will share it with members. Are you holding a rally, a community meeting, or another kind of rail-advocacy event? We can help spread the word if you send them to us. We can put them on the website, here. Please follow Rail Passengers on Facebook and Twitter to stay up to date on all things passenger rail.
---
NOTE: This Is An Abbreviated Rail Passengers Hotline Edition! Full coverage will resume next Friday, April 12th
---
Indiana Action Alert! Governor Holcomb's proposed budget eliminates the $3 million of state money funding the service for the more than 60,000 yearly passengers - even while schedule improvements are being made by the host railroad. We need you to write your State Senator and help save the Hoosier State. Go to railpassengers.org/hoosierstate for more details.
---
Over 140 Rail Passengers Association members and Council of Representatives gathered in Washington this past week to advocate for better transit, better intercity rail, a better Amtrak -- a better transportation network for all Americans.
During Tuesday's Rail Passengers 'Day on The Hill' the participants visited over 275 Congressional offices; a new record!
If you weren't able to attend, you can still lend your voice to the chorus of passengers calling for more and better trains in the U.S.
With 31.7 million Amtrak passengers carried in Fiscal 2018 and multi-year increases in rail transit ridership, Rail Passengers Association is asking Congress to continue funding rail transportation at or above the levels provided in the Fiscal Year 2019 Appropriations Bill.
Act Now for more and better trains in America!
There will be a full recap of Rail Nation DC next week!
---
The Annual Rail Passengers' Congressional Reception held on Tuesday evening was attended by over 250 attendees, supporters and Washington policy makers.
The Association's 'George Falcon Golden Spike Award' was presented to U.S. Senators Jerry Moran (KS), Pat Roberts (KS), Michael Bennet (CO), Cory Gardner (CO), Martin Heinrich (NM) and Tom Udall (NM), for their collective efforts to save the Southwest Chief.

---
On Wednesday morning, the Association presented John R. Martin Passenger Train Advocacy Awards to Bruce Ashton of San Antonio, TX and to Doug Kerr of Healdsburg, CA, for their many years of exceptional service to our cause and to America's rail travelers.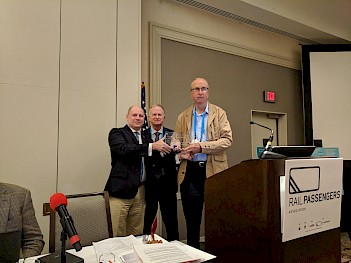 Bruce Ashton (Right)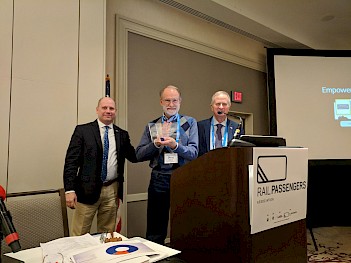 Doug Kerr (Center)
Also during Wednesday's Rail Passengers' Council Business Meeting, representatives Dick Bruss from Pennsylvania and Michael Christensen from Utah were elected to three year terms as Directors on the Association's Board.
---
Rail Passengers Track Update: Where are we and what're we working on? This section will give you updates on what Rail Passengers HQ is up to.
The entire Rail Passengers staff were engaged in this past week's Rail Nation DC 2019 Advocacy Summit, Day on The Hill and Congressional Reception!
After a busy & successful week, the staff was off on Friday. But it's back to work next Monday, advancing our mission for more & better trains!
---
Upcoming Regional Rail Passenger & State Association Member Meetings and Other Events:
Please contact Bruce Becker to have a state or regional event or meeting added to the Rail Passengers calendar of upcoming events!
---
Passenger Rail Service Notices
Current and upcoming service notifications that could affect upcoming train travel include:
Pacific Surfliner Service Schedule Changes
Effective April 8, 2019
Please be advised that adjustments have been made to Pacific Surfliner schedules, effective Apr. 8. See outlined schedule below.
Train 572 will depart Los Angeles 14 minutes earlier than scheduled at 10:40 am. Train 573 will depart San Diego 30 minutes later than scheduled at 11:15 am.
Train 572
Monday - Friday
Los Angeles 10:40 am
Fullerton 11:11 am
Anaheim 11:19 am
Santa Ana 11:28 am
Irvine 11:41 am
San Juan Capistrano 12:01 pm
San Clemente Pier - Oceanside 12:38 pm
Solana Beach 12:54 pm
San Diego (Old Town) 1:26 pm
San Diego 1:38 pm
Train 573
Monday - Friday
San Diego 11:15 am
San Diego (Old Town) 11:22 am
Solana Beach 11:52 am
Oceanside 12:16 pm
San Clemente Pier - San Juan Capistrano 12:53 pm
Irvine 1:07 pm
Santa Ana 1:18 pm
Anaheim 1:28 pm
Fullerton 1:38 pm
Los Angeles 2:15 pm
Pacific Surfliner Weekend Service Changes Friday, Saturday and Sunday April 12 through 14, 2019
Attention Amtrak Passengers: Track work being performed by North County Transit District will affect Pacific Surfliner service, on the dates shown below:
Friday, April 12
Train 590 will be cancelled. Passengers can make reservations aboard other Amtrak trains.
Bus service will be provided from Los Angeles to San Diego, making stops at Oceanside, Solana Beach, Old Town San Diego and San Diego Downtown. No alternate transportation will be provided to Fullerton, Anaheim, Santa Ana, Irvine and San Juan Capistrano.
Saturday and Sunday, April 13 and 14
Trains 562, 583, 1565, 1566, 1569, 1572, 1573 and 1590 will be cancelled. Passengers can make reservations aboard other Amtrak trains.
Southbound Train 782 will terminate at Los Angeles. No alternate transportation will be provided between Los Angeles and San Diego. Passengers can make reservations aboard other Pacific Surfliner trains.
Southbound Train 796 will terminate at Los Angeles and bus service will be provided for all missed stops.
Southbound Trains 580, 768, 774, 792, 1564 and 1584 will operate normally to Irvine, where bus service will be provided from Irvine to San Diego. Express buses will run from Irvine to San Juan Capistrano, Oceanside, Solana Beach, Old Town San Diego and downtown San Diego only.
Northbound Trains 591, 595, 763, 777, 785, 1579, 1761 and 1767 will originate in Irvine. Bus service will be provided from San Diego to Irvine to connect with the trains listed above, with the exception of Train 1761. Buses will depart downtown San Diego, Solana Beach, Oceanside and San Juan Capistrano earlier than the train schedule to allow time to connect with trains in Irvine.

Buses will not pick up at Old Town San Diego. Passengers can take the trolley to downtown San Diego to board buses to Irvine.
Bus service will not be provided to connect with Train 1761.
Metrolink will honor Amtrak tickets between Irvine and Los Angeles.
Please note: There will be no checked baggage or express service south of Santa Ana on the dates shown above. Alternate bus service will not serve San Clemente Pier.
Palmetto Train 89 and 90
Effective Mon. through Thurs. Apr. 1 through May 2, 2019
Due to track work being performed by CSX, Palmetto trains 89 and 90 will be impacted as described below.
April 1-4, 8-11, 15-18, 22-25 and 29-May 2:
Palmetto Trains 89 and 90 which normally operate between New York and Savannah will operate between New York and Washington, only.
Trains are cancelled between Washington and Savannah, with no alternate transportation provided.
Thruway Buses 6089, 6090, 6189 and 6190 are cancelled.
Northeast Regional Trains 66 and 67 Track Work Affects Service
Monday through Thursday, March. 25 - April. 11
Due to track work being performed by CSX, Northeast Regional Trains 66 and 67 will be impacted as outlined below.
March. 25-28, April. 1-4 and 8-11
Train 66, which normally operates between Newport News and Boston, will originate in Richmond Staples Mill with no alternate transportation between Newport News and Richmond Staples Mill.
Train 67, which normally operates between Boston and Newport News, will terminate at Richmond Staples Mill with no alternate transportation between Richmond Staples Mill and Newport News.
Please note Thruway Buses 6066 and 6067 are cancelled during these dates.
Weekend Track Work Affects Downeaster Service at Woburn
Saturdays and Sundays March 23 through June 23, 2019
Attention Amtrak Customers: Due to track work being performed by the Massachusetts Bay Transportation Authority (MBTA), the Downeaster trains shown below will not stop at Woburn on Saturdays and Sundays, beginning Mar. 23.
Southbound Trains 690, 692, 694, 696 and 698 and northbound Trains 691, 693, 695, 697 and 699/1689 will detour between Boston North Station and Haverhill and will not stop at Woburn. Alternate transportation will not be provided to or from Woburn.
May 4 and 5: All Downeaster trains will be represented by bus service between Haverhill and Boston North. Buses will operate with normal train numbers and schedules and will not stop at Woburn.

Elizabethtown Station Temporarily Closed
Effective Immediately
The Elizabethtown station is temporarily closed until further notice. Trains will continue to stop at the station and passengers will have access to platforms.
Passengers will not have access to the inside of the station or the elevator during this time. Passengers requiring an elevator, ticketing or a staffed station may board at the Harrisburg station, approximately 30 minutes northwest or Lancaster station, approximately 30 minutes southeast of Elizabethtown.
Van Nuys Station Temporarily Closed
April 13, 2019
Amtrak Pacific Surfliner and Coast Starlight trains will not stop at Van Nuys station on Saturday, April 13 due to scheduled track work preventing boarding and leaving trains at this stop.
Customers who use Van Nuys station for travel may use these nearby stations for their traveling needs:
Los Angeles: A staffed station three stops south of Van Nuys
Hollywood Burbank Airport: Unstaffed station one stop south of Van Nuys
Chatsworth: Unstaffed station one stop north of Van Nuys
Minimal delays are expected during this time.
Keystone Service and Pennsylvanian Trains 42 and 43
Reservations Required During the Easter Holiday Period Thursday through Tuesday, April 18 through 23, 2019
To better accommodate the increased number of passengers traveling during the Easter holiday period, reservations will be required on all Pennsylvanian and Keystone Service trains from Thursday, April 18 through Tuesday, April 23.
Note: Monthly and ten-ride tickets will be accepted on these dates.
Easter Holiday Travel Reminders:
To avoid ticket counter lines, passengers are encouraged to utilize eTicketing.
Allow ample time to arrive at the station and board the train.
Make sure your baggage is tagged with your name and address.

Station Elevator Out of Service Marshall, TX Station
Effective immediately, the elevator located inside the Marshall, TX Station is out of service until further notice.
Elevator Options
Passengers requiring an elevator may board at the Longview, TX Station, approximately thirty minutes west of Marshall.
Allow Extra Time–Don't Miss Your Train
Customers using the stairs may need to allow extra time to get to the boarding platform.

City of New Orleans Trains 58 and 59 Busing Between Jackson and New Orleans
Please be advised that CN railway closed the route used by Amtrak City of New Orleans due to flooding until further notice. Amtrak-chartered buses are being provided between Jackson and New Orleans as substitute transportation for Trains 58 and 59.
Normal train service will resume as soon as possible. Passengers will be provided bus service in both directions between Jackson, Hazlehurst, Brookhaven, McComb, Hammond and New Orleans. Passengers traveling north from New Orleans are asked to arrive at Union Passenger Terminal by 12:15 to board the buses.
---
Your Feedback is Important to Improving Amtrak
The Rail Passenger Travel Review is now up and live on our website. For those who have taken recent Amtrak trips and want to provide their feedback, it can be accessed directly at RailPassengers.org/TravelReview.
As you travel , please help us promote the Travel Review with other rail passengers. As you encounter passengers who want to make their positive and negative opinions known, please direct them to www.railpassengers.org/Travel Review. All participants will remain anonymous. If you encounter any problems with the Travel Review, or have any questions, please send an email to [email protected]
---
Planning a summer vacation including trains (and who wouldn't be?), then you need a copy of Lonely Planet's 'Amazing Train Journeys' guidebook! And with every purchase Lonely Planet will donate 15% of the proceeds to your Association, to help us keep working for More Trains, Better Trains and a commitment to better infrastructure.
Through this beautiful book, you'll experience 60 of the world's greatest and most unforgettable train journeys, from classic long-distance trips like Western Canada's Rocky Mountaineer and Darwin to Adelaide's The Ghan, to little-known gems on regular commuting lines. It's the culmination of asking more than 200 travel writers for their absolute favorites.
Some are epic international adventures, others are short suburban routes along stunning coastline. There are incredible feats of engineering, trains that snake their way through mountain peaks, and even those which have achieved Unesco World Heritage status.
More than just a collection, each profile will give you the practical information you need to experience one or more of these epic journeys yourself -- including ticket options, timetables and stops, plus inspiring photos and illustrated maps. It's all here!
Amazing Train Journeys is available as a book, e-Book or in both formats at a low combination price. And your purchase helps supports your Association's mission too! Remember, Lonely Planet is contributing 15% of all Amazing Train Journeys sales to Rail Passengers! You can order copies by clicking here!
---
DON'T SLEEP ON THIS! USE YOUR MEMBER DISCOUNTS FOR EXCLUSIVE SAVINGS!
Rail Passengers' partnership with MemberDeals will give members access to exclusive savings on movie tickets, theme parks, hotels, rental cars, tours, Broadway and Vegas shows and more through the members only area of the Rail Passengers website. Be sure to check back often as new products and discounts are constantly being added!
Whether you are from Bakersfield, Bismarck or Boston, Rail Passengers and MemberDeals have you covered! Our MemberDeals partnership covers venues, services and attractions throughout the country...take a look to see where there might be savings on fun outings near you!
Remember, if you want to use these great internet-only discounts, you must be a member in good standing AND be logged in to the Rail Passengers website. If you need help accessing these discounts email us at [email protected], or call the office at 202-408-8362.
---
Openings Available For Rail Passengers State Council Representatives
The following vacancies now exist for state representatives on the Rail Passengers Council of Representatives: Alabama (1 opening); California (6 openings); Idaho (1 opening); Illinois (1 opening); Louisiana (1 opening); Massachusetts (1 opening); Minnesota (1 opening); North Dakota (1 opening); Ohio (2 openings); Pennsylvania (1 opening); Texas (1 opening); Washington State (1 opening); Wyoming (1 opening)
If you are interested in becoming more involved in passenger rail advocacy and serving in a Rail Passengers leadership role, this is your opportunity to be considered for an appointment by the Board of Directors to an open state representative seat. There is no deadline to apply and submissions will be considered on a rolling basis as they are received.
Please review the position responsibilities & required qualifications and complete & submit a Candidate Information Statement if you would like to seek a position.
"I wish to extend my appreciation to members of the Rail Passengers Association for their steadfast advocacy to protect not only the Southwest Chief, but all rail transportation which plays such an important role in our economy and local communities. I look forward to continuing this close partnership, both with America's rail passengers and our bipartisan group of senators, to ensure a bright future for the Southwest Chief route."
Senator Jerry Moran (R-KS)
April 2, 2019, on receiving the Association's Golden Spike Award for his work to protect the Southwest Chief